SKY PATROL SKY STRIKER
COMBAT JET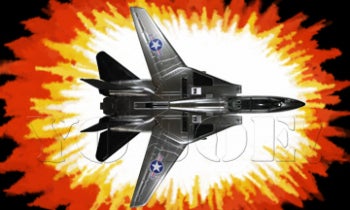 YoJoe ID:
118-HBV-2016-SPSKYSTR-01
Series: Thirty Two (2016)


The Sky Patrol Sky Striker was released as part of the 2016 International G.I.Joe Convention (Loveland, CO) from the Official G.I. Joe Collectors' Club.
Easily Broken/Lost Pieces
The canopy, the two tail fins, the six missiles, and the two engines are sometimes lost. Of the six missiles, the two front "stinger" missiles are often found broken. Take extra care of the "stinger" missiles.
Variations
No variations of Sky Patrol Sky Striker are known to exist.
Versions of Sky Patrol Sky Striker
Reference Information
The below information contains information about references to various collector's guides, Hasbro references, original retail prices, and other reference material related to Sky Patrol Sky Striker.
Original Retail: $160.00
Product Number: 06-28-16
Lee's Guide: n/a
The Ultimate Guide: n/a

Desimone Guide: n/a
Tomart's Guide: n/a
RAHC/Rank & File: n/a
Action Figure Archive Guide: n/a