CONQUEST X-30
WITH PYTHON PATROL VIPER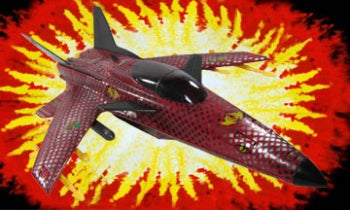 YoJoe ID:
118-HVH-2009-CONQUEST-06
Series: Twenty Five (2009)


The Conquest X-30 was released in 2009 in the first wave of Target-exclusive vehicles. It included the driver, Python Patrol Viper (v21).
Driver/Pilot: PYTHON PATROL VIPER (v21)
Python Patrol Viper (version 21) was released was released as the pilot for the Target-exclusive Conquest X-30.
Easily Broken/Lost Pieces
The Conquest X-30's two access panels, two gray bombs/droptanks, and four yellow missiles are small and are easily lost.
Variations
There are no known variations of the Conquest X-30.
Versions of Conquest X-30
Reference Information
The below information contains information about references to various collector's guides, Hasbro references, original retail prices, and other reference material related to Conquest X-30.
Original Retail: $24.99
Product Number: 92463
Lee's Guide: n/a
The Ultimate Guide: n/a

Desimone Guide: n/a
Tomart's Guide: n/a
RAHC/Rank & File: n/a
Action Figure Archive Guide: n/a