This is the Sit-Rep, soldier, the Situation Report! It's here where we get the intel on the new troops, talk to the big brass, and generally do anything else that isn't in an archival capacity! So what are you waiting for? It's time for your debriefing!
G.I. Joe Series 2: Season 1
Review by Phillip Donnelly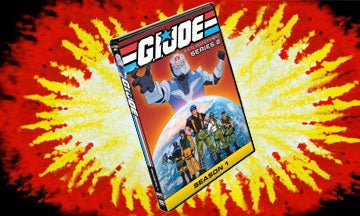 I have to preface this review by saying this: I don't entirely loathe the DiC G.I. Joe series. Hard to believe, I know! But this was the series that I remember watching - I was actually a little too young to remember much of the Sunbow run. And with the DiC series being aired on USA network at the time, well, I saw more of this series than the other. So when Shout! Factory announced they'd be releasing the first season of this series on DVD, I was ecstatic. After all, prior to this set's release, you could only legally own four episodes on four VHS cassette tapes. And of those four tapes, only "Revenge of the Pharaohs" comes from the first season.
As you can see from the image to the left, the image quality of this episode is much crisper on the DVD than from my old, worn-out tape. I can actually make out detail! The clarity of these episodes is definitely better than any you'll find elsewhere. And with 24 episodes spread across 4 discs, there's a lot of animation to watch.
Of course, that's kind of the elephant in the room here, isn't it? The DiC series is often slammed for its cheaper animation and sometimes idiotic stories. I tend to think the animation isn't as bad as people make it out to be. Sure, we have lots of error and reuses, but Sunbow is guilty of that, too. The overall color palette is lighter in tone, but disliking that is a matter of preference more than anything else. And the writing in this season isn't as bad as Season Two. "Granny Dearest" won't leave much of an impression, but I don't think it's any worse than some of Sunbow's lesser episodes. That said, there are definitely issues worth noting - choppy animation when a character is running, reusing Sgt. Slaughter's grunting ADR for other characters, inconsistent characters in crowds - it's annoying, to be sure.
But the content of the episodes isn't Shout! Factory's responsibility, the set itself is. And it's a nice looking set indeed. Now, if you're like me, your bookshelf is going to look a little... inconsistent. But the design of the cover meshes with the individual season sets Shout! Factory released prior, with the cover image specifically referencing the included "Operation Dragonfire" mini-series.
The discs and DVD menus again show the Joes from the front cover, giving an attractive and consistent presentation. Sadly, there are no extras to speak of in this set. Perhaps they
thought the Sunbow animation of the contemporaneous commercials would clash with the stylistic designs of the DiC episodes.
Those commercials are probably your best head-to-head comparison between the Sunbow and DiC animation. Keep in mind though, since Sunbow only had to animate a few seconds at a time, they put more effort in the commercials than they would in an episode.
DiC did try their best to emulate Sunbow where they could - Christopher Latta (using his actual surname of Collins), Sgt. Slaughter, Ed Gilbert, and Morgan Lofting all reprised their roles from the Sunbow cartoon, while series newcomers Maurice LaMarche and Lisa Corps did their best to replicate the voice actors who came before them. (If you're wondering why only a few people made the jump to the new series, I've heard voice actors who were under contract to Sunbow at the time weren't allowed to do work on the DiC series. Hence, Arthur Burghardt still voicing Destro in the commercials.)
The music in Operation Dragonfire is very close to Sunbow's, as well. The theme song used, with its "International Heroes" variation, was likely used for the Sunbow cartoon in some foreign markets. Come the first season, though, DiC used their own original music - including my favorite G.I. Joe theme song, "Got to Get Tough," or whatever its actual name is.

Like Sunbow, episodes from a particular year would focus more on the toys available on the shelf. So while Scoop may be the big focus of Operation Dragonfire, he's relegated to a background character come Season One. That's not to say that DiC totally ignored previous characters completely. In fact, several older characters managed to show up over the course of the series. Lady Jaye, Zarana, and the Baroness were probably there to add some females to the cast, but why the Crimson Guard and Duke? They hadn't had toys out in years! Amusingly, DiC gave their own little twist to the design of these characters. So Hasbro, if you need to get more tooling out of your Zarana mold, we've got a legitimate alternate paint scheme to use! You already put out DiC-inspired Scarlett and Duke toys!
All in all, this set recovers a part of G.I. Joe history that had largely been lost to us for over 20 years. While the cartoon may not be as revered as its predecessor, it's still a fun way to spend the time. And for many characters, it's their only animated incarnation to date. Where else will you see Frag-Vipers and Sky Patrol? Twenty-four episodes across four DVDs - not bad for twenty bucks, huh?
Oh, and if you have a thing for Zarana, I think the animators did, too.
Archive entries:
G.I. Joe Series 2: Season 1
Editor's Note:
Like what you saw? Hated it? Post about it in the YoJoe! Forums!
Images from the collection of: Phillip Donnelly with Shout! Factory
DVD Set courtesy of Shout! Factory!
---
Yo Joe!
01/27/12