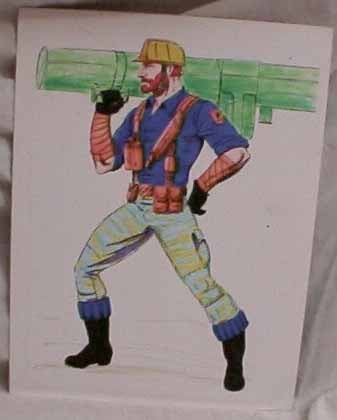 Outback
Description:
The very first step in creating action figures involved pen-ink drawings. If these drawings passed, they'd be colored in and color schemes would be proposed.
Pictured above is the colored pen-ink art of Outback (1993) as he was originally intended to be part of the 1993 Eco-Warrior subset. When the Eco-Warriors subset was cancelled, several of these figures were produced and released carded on normal Battle Corps cards. But the figure was quickly replaced by a repainted Outback similar to the one pictured below.
Description:
Pictured above is a preproduction Outback (1993) that appeared in a Hasbro product catalog. The top of the boots, the gloves, belt, and chest detail are all painted orange.
Concept art from the collection of: Steve Campbell
Catalog Images Courtesy of: Patrick Stewart