Patrulha Do Ar




Abutre Negro


Brazil
Figure Description
Abutre Negro was an exclusive figure that was available carded in Brazil in 1990/1991 by the Estrela Toy company as part of Patrulha Do Ar (Sky Patrol).
Abutre Negro translates loosely into "Black Buzzer".
Accessories: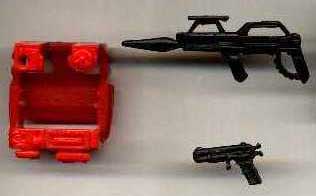 Abutre Negro came with a black handgun, a black rifle, a red backpack, and a silver parachute.
Body Construction:
Abutre Negro's head and legs were recolored from Dee-Jay (1989), the chest and arms were recolored from Cesspool (1991) and the waist if from Maverick (1987).
From the collection of: Ed Dam
Image from the collection of: Luiz Celso
Carded figure from the collection of: Ed Dam