MONSTRO-VIPERS (v1)
GENETICALLY ENHANCED BIO-BEAST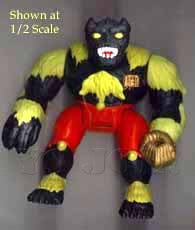 YoJoe ID:
118-HAF-1993-MONSTROV-01
Series:
Twelve (1993)
Monstro-Vipers was released carded as part of the twelfth series (1993) as part of the Mega Marines subset.
It was discontinued domestically in 1994.
Accessories
Monstro-Vipers came with a a gold rifle, a flail, and a canister of "Moldable Bio-Armor."
The "moldable bio-armor" was Play-Doh that could be molded onto the figure "gut bomb" mold that flipped down from the figure's chest.
Filecard Information
Primary Specialty: Bio-Genetic Mega-Marine Hunters
Secondary Specialty: Deforestation/Wildlife Destruction

Variations
No variations of Monstro-Vipers (v1) are known to exist.
Body Construction
Monstro-Vipers' body is entirely original - no parts were taken from other figures.
Versions of Monstro-Viper
This was the only version of Monstro-Viper ever released.
Reference Information
The below information contains information about references to various collector's guides, Hasbro references, original retail prices, and other reference material related to Monstro-Vipers (v1).
Original Retail: n/a
Product Number: n/a
Lee's Guide: n/a
The Ultimate Guide: n/a

Desimone Guide: #459
Tomart's Guide: n/a
RAHC/Rank & File: n/a
Action Figure Archive Guide: n/a