TOXO-VIPER (v2)
HOSTILE ENVIRONMENT TROOPER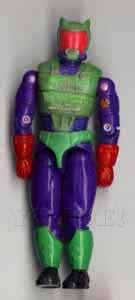 YoJoe ID:
118-HAF-1991-TOXOVIPE-02
Series:
Ten (1991)
Toxo-Viper (v2) was first released carded as part of the tenth series (1991) as part of the Eco-Warriors subset. He was discontinued domestically in 1992.
Accessories
Toxo-Viper came with a purple gun, a purple backpack, a green cannon that could shoot water, and a black figure stand.

The cannon included a purple plunger that could be removed. If the cannon was filled with water, the plunger could be pushed in, causing water to fire out of the cannon.
Variations
No variations of Toxo-Viper (v2) are known to exist.
Body Construction
Toxo-Viper's body is entirely original - no parts were taken from other figures.

Most of the mold was retooled in 1992 to create the Toxo-Zombie. The legs and waist were re-used in 1994 to create Major Bludd.

Like all the Eco-Warriors figures, spots on Toxo-Viper were covered with a special color-change plastic. When the figure was hit with water, the plastic changed colors to simulate "battle damage."
Reference Information
The below information contains information about references to various collector's guides, Hasbro references, original retail prices, and other reference material related to Toxo-Viper (v2).
Original Retail: n/a
Product Number: n/a
Lee's Guide: n/a
The Ultimate Guide: n/a

Desimone Guide: #319
Tomart's Guide: #GI6611
RAHC/Rank & File: n/a
Action Figure Archive Guide: n/a