CAPT. GRID-IRON (v1)
HAND TO HAND COMBAT SPECIALIST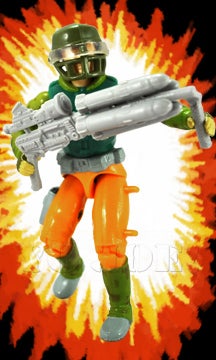 YoJoe ID:
118-HAF-1990-CAPTGRID-01
Series:
Nine (1990)
Capt. Grid-Iron was released carded as part of the ninth series (1990). He was discontinued domestically in 1991.
Accessories
Capt. Grid-Iron came with a a green football helmet, a clear visor (that attached to the helmet), two orange elbow pads, a green backpack, a gray missile launcher, four gray missiles (that attached to the missile launcher), a light gray shotgun, and three gray football grenades.
Filecard Information
File Name: Lydon, Terrence
SN: 903-5221-YY07
Grade: O-3
Birthplace: Evergreen Park, Illinois
Primary Specialty: Hand-To-Hand Combat Specialist
Secondary Specialty: Infantry

CAPT. GRID-IRON was quarterback of the West Point football team and graduated in the top ten of his class. It can be said in his favor that he passed up an appointment to the U.S. Army War College for a conventional infantry at the company level. It was this determination to be "where the action is" that brought him to the attention of the G.I. Joe organization.

"The other G.I. Joes were a bit put off by this West Pointer when he first showed up, but he turned out to be bearable to the point that nobody tried to 'lose' him on his first mission. In fact, if he would only stop trying so hard to be likeable and put a halt to his John Wayne (classic Hollywood tough guy) imitation, they might let him play quarterback at the annual G.I. Joe Fish Fry Football Game!"

Variations
Capt. Grid-Iron came with either a hard plastic helmet or a soft plastic helmet. The soft plastic helmet is more difficult to find.
Body Construction
Capt. Grid-Iron's body is entirely original - no parts were taken from other figures.
International Releases
In India, Capt. Grid-Iron was created in brighter colors. A variant exists with differently colored arms.
Versions of Capt. Grid-Iron
This was the only version of Capt. Grid-Iron ever made.
Reference Information
The below information contains information about references to various collector's guides, Hasbro references, original retail prices, and other reference material related to Capt. Grid-Iron (v1).
Original Retail: $2.55
Product Number: 6561
Lee's Guide: n/a
The Ultimate Guide: Pg. 157 (1st Ed.), Pg. 212 (2nd Ed.)

Desimone Guide: #256
Tomart's Guide: #GI6311
RAHC/Rank & File: n/a
Action Figure Archive Guide: n/a