TORPEDO (v1)
SEAL (SEA, AIR, AND LAND)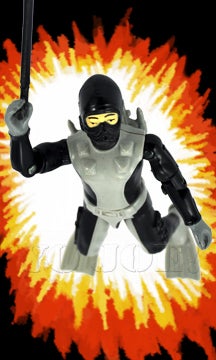 YoJoe ID:
118-HAF-1983-TORPEDO-01
Series:
Two (1983)
Torpedo was released carded as part of the second series (1983).

He was sold in 1984 and 1985 and was discontinued domestically in 1986. Also at some point in the mid 1980s, Torpedo was included in special three-packs available mail-order from J.C.Penney's with Tripwire and Snow Job.
Accessories
Torpedo came with gray and orange scuba tanks, two gray swim fins, and a black harpoon rifle.
Filecard Information
File Name: Leialoha, Edward W.
SN: RN946775409
Grade: WO-4 (Warrant Officer)
Birthplace: Aiea, Hawaii
Primary Specialty: Navy SEAL
Secondary Specialty: Demolitions

Torpedo was a scuba instructor prior to enlistment. Attained black belts in three martial arts by age 19 (Wu-Shu, Kenpo, and Go-Ju-Ryu). Proficient with Filipino butterfly knife(Bali-Song). Training records after SEAL School: CLASSIFIED. Qualified Expert: Most NATO small arms, NATO and Warsaw Pact explosive devices.

Spends off-duty hours perfecting his fighting skills and marksmanship. Strict vegetarian. Regarded by his teammates as a highly competent professional, but has the personality of a cold fish.

Variations
No variations of Torpedo are known to exist.

There are two versions of Torpedo's filecard. The one that came from the J.C.Penny's mail-order set has a glossy red backing, while the one that came carded does not.
Body Construction
Torpedo's body is completely original - all new body parts.

Torpedo's entire body was re-used in 1997 to create Torpedo (v2) and in 2001 to create Wet Down.

Note that the figure's head only turns left and right - it does not allow the head to look up and down. The heads only turned left and right until the the swivel ball head that was introduced in 1985 (Series Four).
Versions of Torpedo
In 2003, Torpedo was renamed "Chief Torpedo," and in 2008, he was renamed again to "Lt. Torpedo." So while there are several names, they are all based on the character "Torpedo."
Reference Information
The below information contains information about references to various collector's guides, Hasbro references, original retail prices, and other reference material related to Torpedo (v1).
Original Retail: $2.25
Product Number: 6413
Lee's Guide: GIJ-83016
The Ultimate Guide: Pg. 23 (1st Ed.), Pg. 34 (2nd Ed.)

Desimone Guide: #26
Tomart's Guide: #GI5125
RAHC/Rank & File: n/a
Action Figure Archive Guide: n/a