COBRA OFFICER (v4)
THE ENEMY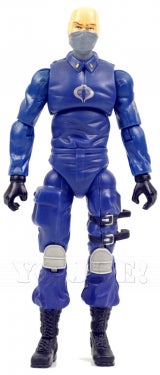 YoJoe ID:
118-HAF-2007-COBRAOFF-04
Series:
Twenty Three (2007)
Cobra Officer (version four) was released with the first wave of single packs celebrating the 25th Anniversary of G.I. Joe: A Real American Hero.
Accessories
Cobra Officer came with a silver sniper rifle, removable helmet, removable webgear, removable dagger, and a black display stand.
Filecard Information
File Name: (UNKNOWN)
Birthplace: Various Countries
Primary Specialty: Infantry
Secondary Specialty: Artillery, Intelligence

COBRA officers are front-line fighters who lead COBRA attack units into battle. Many are also believed to be operating as spies at defense plants, nuclear power facilities, etc. All are martial arts experts and masters of disguise, deceit, and demolitions. Qualified Expert: AK-47 Assault Rifle; PM-63 Machine Pistol; M-16; Ingram M-11 Sub-machine gun.

"COBRA Officers are dedicated to destroying GI JOE and the American way of life. Beware...they are extremely dangerous enemies!"

Variations
Early Cobra Officer figures came with no backpack hole in the back. Later Cobra Officer figures included a backpack peg hole.
Body Construction
Cobra Officer (version 4) was created using the mold originally used to create Cobra (v2) (2007) with newly sculpted webgear and helmet.
Reference Information
The below information contains information about references to various collector's guides, Hasbro references, original retail prices, and other reference material related to Cobra Officer (v4).
Original Retail: $5.99
Product Number: 63455
Lee's Guide: n/a
The Ultimate Guide: n/a

Desimone Guide: n/a
Tomart's Guide: n/a
RAHC/Rank & File: TFA - 005/249 - 0694 - A / TFA - 005/249 - 0694 - B (backpack hole)
Action Figure Archive Guide: n/a