CUTTER (v4)
COAST GUARD SPECIALIST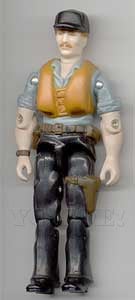 YoJoe ID:
118-HAF-2001-CUTTER-04
Series:
Seventeen (2001)
Cutter (v4) was released as part of the seventeenth series (2001), packaged exclusively with the N.L.C. (Night Landing Craft).
Accessories
Cutter (v4) came with no accessories.
Filecard Information
File Name: Stone, Ronald 'Skip' A.
Grade: O-2 (Lieutenant J.G.)
Birthplace: Kinsley, Kansas
Primary Specialty: Aquatic Vehicle Operations
Secondary Specialty: Coast Guard Officer

Cutter knows the high seas better than any fish in the ocean. But when a snake like Cobra decides to get its feet wet, best to be prepared for a big splash! That's where Cutter comes in. Like a great white shark with a ravenous appetite, Cutter is always ready to take a bite out of Cobra whenever they wreak havoc in the world via the sea.

He may have been a typical land-lubber as a kid in Kansas, but after a family trip to Florida at age 14, Cutter was hooked on the sea like a sailfish on a 100-pound test line. His experience as a Coast Guard skipper in hunting down drug smugglers on the high seas made him a perfect catch for the G.I. Joe team's Aquatic Defense Division. Cutter likes nothing better than sneaking up on unsuspecting crafts and pounding them like a tidal wave. Now, instead of souring the oceans for drug-dealing slime-balls, he patrols the sea for something else that's even more slimy...Cobra! The name "Ronald 'Skip' A. Stone" does not identify any known, living person.

Variations
No variations of Cutter (v4) are known to exist.
Body Construction
Cutter's body mold was originally used in 1984 to create the original Cutter.
Versions of Cutter
In 2008, Cutter was renamed "G.I. Joe Cutter." So while there are multiple names, they are all based on the character "Cutter."
Reference Information
The below information contains information about references to various collector's guides, Hasbro references, original retail prices, and other reference material related to Cutter (v4).
Original Retail: n/a
Product Number: n/a
Lee's Guide: n/a
The Ultimate Guide: n/a

Desimone Guide: n/a
Tomart's Guide: n/a
RAHC/Rank & File: n/a
Action Figure Archive Guide: n/a